Field Testing the Right Angle Leader
We tested out the effectiveness of the right angle leader when fly fishing for rainbow trout and brown trout…we weren't disappointed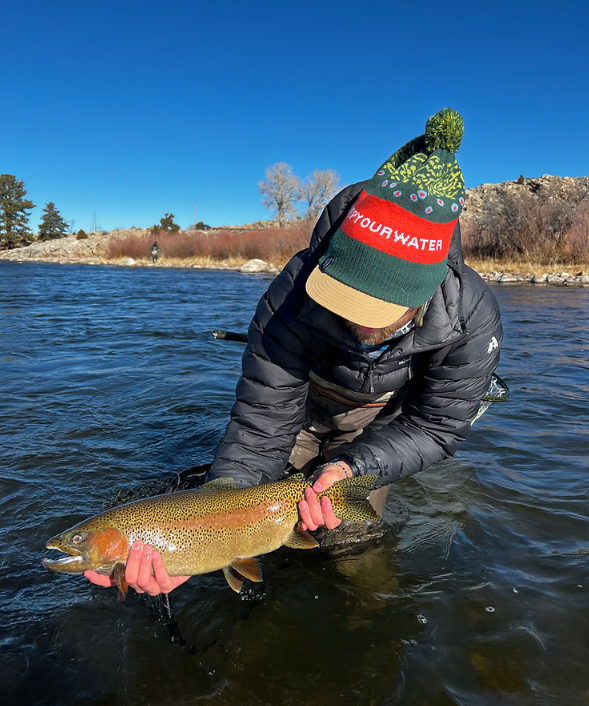 November 2022
The Due West Anglers crew arrived on Wyoming's North Platte to observe blistering wind and a slippery vast river; I quickly realized that my expectation for tight-line nymphing wasn't going to be a practical use of time. Without the ability to wade closely and precisely cast to likely structure under these conditions, I doubted my abilities to find success with my 10.5' 4wt. I needed another solution. The obvious answer was to enlist the traditional rig which chains flies together in-line under an indicator, anchored by split shot. This was the favored choice by my companions. But I was skeptical. See, drifting nymphs under tapered leaders usually results in a slower drop, it takes more time to develop casts and engage flies at necessary depths due to the tapered leader's drag through the water column. Particularly the thicker butt section. Instead, I decided to take a gamble on an odd leader that I stuffed away waiting for the right time...Something that will fish more like a euro nymphing setup but still uses an indicator, but without the need for a longer-lighter rod. Something that could stand up to wind, the larger river, and also work from our boat. The right angle, or 90° leader, finally was going to get its day.

What makes up a Right Angle, 90° Leader?

A leader with a euro-style construction held under an indicator, sold as a right angle leader, had sparked some hope for my current needs. I'd never actually fished it before, but took the gamble that my current situation would suit this leader's strengths. The leader is constructed in two pieces. First, a thick section of butt material that terminates in a Thingamabobber and micro swivel tied inside of a perfection loop. Second, tied off of the micro swivel, a long section of tippet dropped to a tippet ring where two pieces of tippet branch off, one for each fly. For this trip, UV scuds we're the ticket. One piece is longer for a heavy fly, and one shorter for a dropper fly, allowing a tight connection to each flies even at differing depths. The key component of this leader is the independently moving micro swivel below the indicator that allows your flies to drop directly below the indicator, at a 90 degree angle-hence the name. By tying both indicator and swivel inside a perfection loop there is a freedom of movement to allow the right angle to develop, but not enough to delay any strike detection.

Advantages
By using a heavy fly as the longest tag off of the tippet ring, on the point, you can lengthen out the full extent of the leader and keeps a tighter connection between your flies and your indicator. Plus by having two independently tied flies directly onto the tippet ring there is equal sensitivity for fish taking either fly. The formula of this leader mimics the design concept for euro style leaders and by building the lower section of a 90° leader (below the micro swivel) like your euro style leaders you can take advantage in a similar way. Flies tied on thin un-tapered tippet cut through the water quicker and fish more effectively at depth. This is the ultimate goal for nymphing and the longer you're able to drift at maximum depth the better the results. Plus, by tailoring the depth of the tippet rings you can include droppers that fish higher in the water column. This can be deadly when emerging insects are present.

Disadvantages
When changing depth on a standard tapered nymph rig, you can simply slide your indicator up or down to adjust. However, with a 90° leader the length of tippet between micro swivel and tippet ring may need adjusting. To do this, you need to physically cut or extend the length of tippet. When adding more tippet I used a triple surgeons knot. If you're comfortable with tying knots then this really is no big deal, but it does take a little extra time.

Drift Boats and Long Casts

Based on my testing, the best application for right angle leaders comes when drifting downstream on a drift boat, or when sending long casts out on larger rivers. On this trip we were fortunate to test both. On boats, this leader construction engages flies at depth very quickly, helping to fish buckets and deeper water with nymphs quickly before running out of room as your boat continually drifts downstream. Similarly, when fishing water out of your reach, the cast-ability, and mend-ability of these 90° leaders helped me reach water well beyond my wingspan, and I was extending drifts for long stretches simply by mending and feeding out more line.

Results
Admittedly, some tinkering was needed to get the depth right. But once I dialed it in, I didn't have to change it again. And despite tough overall fishing conditions, we found one exceptional honey-hole where fish were stacked up behind a drop off, habitat requiring exactly the kind of leader that the 90° was best suited. For about an hour hooking fish felt automatic. I had hesitation about the long thin tippet section but had no issues while fighting fish or while casting and mending. In fact, the outfit mended better than anticipated. Indicator sensitivity was adequate, and my strike detection felt exactly like any other form of indicator nymphing. Plus, in a direct comparison between my right angle set up and my friend's tapered leader construction in the honey-hole, I was getting hookups quicker than my friend. I did have one minor disaster with tangles, but both the tippet ring and micro swivel proved useful for cutting and retying without having to do everything all over again.



For this trip, I relied on right angle leaders I built myself but they are available as pre-made leaders sold by Scientific Anglers. Grab a couple if you're heading out to bigger water, fishing off of a boat, or want a tight-line/euro-nymphing alternative for unfriendly conditions.