Silver Linings Fly Box: Grasshoppers and Drought
Fly fishing: There is one interesting byproduct of the drought that could serve to favor trout anglers when fishing hoppers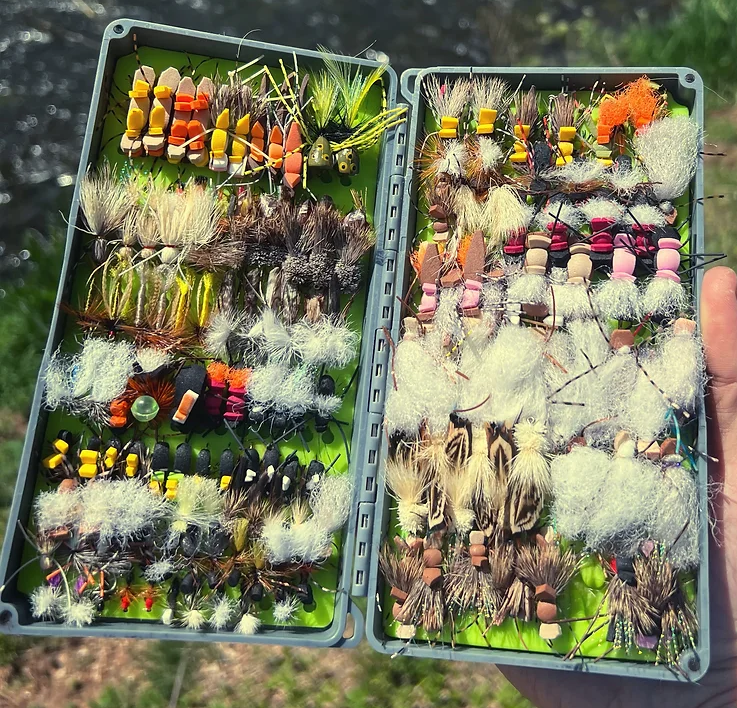 August 2022
As we've been discussing the ongoing western drought, we haven't seen much good news for fly-anglers chasing stream-dwelling trout. Increased water temperatures, decreased summer flows, more wildfires, and de-synced runoff patterns all threaten the prospect of finding cool water to fish by the time August rolls around. But surprisingly, there is one interesting ecological byproduct of the drought that could serve in favor of trout anglers.

Grasshoppers flourish under warm, dry weather, and during this extended drought, expansive growth in grasshopper populations has recently reached plague status. Each year that is dominated by these favorable conditions, the greater the odds for reproductive success for grasshoppers. In 2021, a grasshopper outbreak across Montana rangelands was bad enough that the United States Department of Agriculture (USDA) initiated pesticide spraying to kill nymphal hoppers before they developed into adults that consume all available grasses and crops. Suppression via pesticide application is a common management tactic to curb their spread.

The USDA publishes grasshopper hazard maps each year, highlighting grasshopper density estimates across the entire western United States. Unfortunately, data is sporadic in spots but you can clearly see the outlook was looking "hopper-y" across Montana and Eastern Oregon for the 2021-2022 seasons.  

Many scientists and farmers are focusing on ways to address this problem, but there are also concerns about pesticide use as a management response. Unaddressed, agricultural damage from waves of hoppers could impact national crop and beef prices. In fact, hoppers compete with cattle for young, tender plants before turning their attentions toward mature plants or even seeds on grain crops. But the widespread use of pesticides could pose risks to other insects, including critically important pollinators such as bees, butterflies, and moths. Plus, application of pesticides on stream-adjacent rangeland could threaten aquatic ecosystems and the macroinvertebrates they support. If any spraying efforts aimed at juvenile grasshoppers prove less effective, more toxic pesticides may be applied to counteract the larger, more resilient hoppers.

Make no mistake, the impacts from massive grasshopper swarms have the potential to damage crops and negatively impact society. However, those searching for the silver lining may want to grab their fly rods and seize the opportunity. After all, what's more exciting to an angler than a splashy rise for your favorite hopper pattern on a sunny day?
How Do Hoppers End Up In Rivers?
For fish, grasshoppers begin to show up on the menu as things get hot and dry out. Getting most of their water from greener plants, hoppers seek areas still holding available moisture, eventually leading them towards river banks and other bodies of water. Did you know that research has suggested some grasshoppers infected with water-dependent parasites are manipulated to jump into water and drown? No matter how a hopper ends up in the river, it usually happens on warmer afternoons or windy days. I suppose you could even "San Juan Shuffle" some hoppers off the bank and into the river to stimulate some feeding downstream of you... if you were so inclined.

Future Outlook
As this drought continues, and as the world-wide warming trend continues to raise the summer thermostat, the opportunity to successfully fish hopper flies will likely expand. Will the fish take notice? You betcha... though, it may come with some unfortunate societal costs.

Want more about grasshoppers? Check out our article: The Colorful World of Hoppers.


Sources: