Still Extinct, Yellowfin Cutthroat Once Made it to Colorado's Grand Mesa
Work done by Mark Pizzimenti has uncovered more untold details about the history of the Yellowfin trout...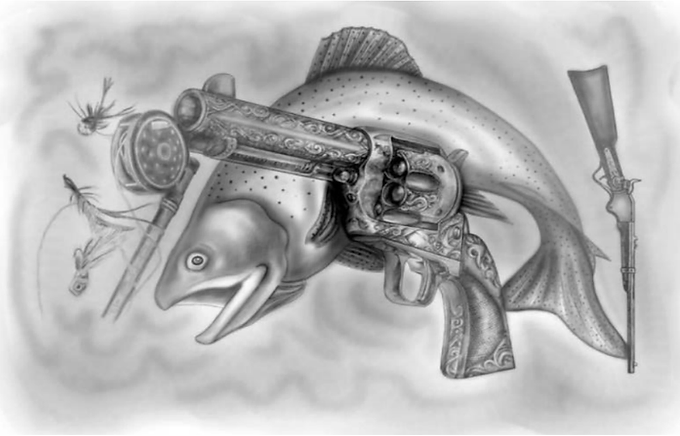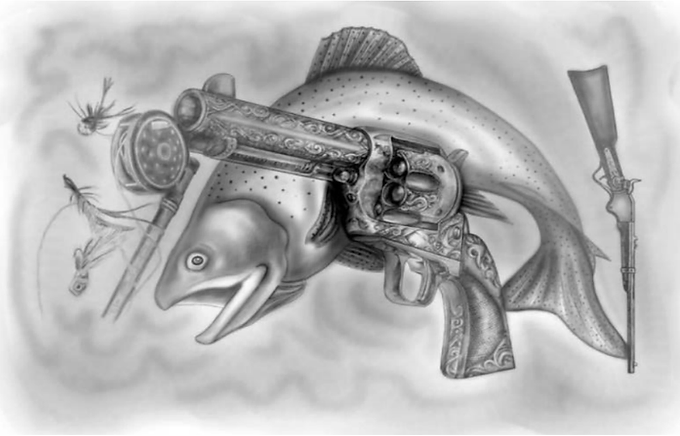 June 2022
Introduction:
We take cutthroat trout for granted. So many of us daydream about Pyramid Lake and the monstrous Lahontan Cutthroat trout, yet at one point in time these fish were nearly forgotten and considered extinct. Thanks to a lucky find in eastern Nevada, the Lahontan cutthroat were brought back from the brink and re-established into the formidable beasts that now roam Pyramid Lake. Yet, a similar lake-specialized-cutthroat in Colorado never got the chance to be reborn like the Lahontan. The Yellowfin cutthroat trout was presumed extinct shortly after its discovery in the early 1900s. We took a detailed look at the Yellowfin cutthroat in a past article, examining what is known about this lost Colorado native, detailing how much habitat all cutthroat trout have lost over the past 100+ years, and summarizing how lucky we have been at re-discovering once "extinct" cutthroat. Make no mistake, a rediscovery of the Yellowfin is wildly unrealistic, but the full story of the Yellowfin has yet to be told. Work done by Mark Pizzimenti has uncovered more untold details about the history of the Yellowfin trout and can be found in his 2019 work "Cutthroat – Colorado's Mighty Yellow-fin Trout & The Grand Mesa Fish War" which details a little known chapter in the yellowfin cutthroat story.

Below is an excerpt from Mark's work that he's allowed us to share with you. We hope you enjoy reading it as much as we have.
---
"Before I continue I should mention there's not a lot of detailed information on the Yellow-fin Cutthroat Trout. What info you might find through cursory searches poses a mystery. Layers of mystery. You wind you way deeper into that Rabbit Hole and you encounter references that maybe implicate the Yellow-fin in even a murder or two. But it's difficult to pin down. Even the name casts you down side-branches of the Rabbit Hole. Yellow-fin was hyphenated, or spelled as a single word, Yellowfin, or even as two separate words, Yellow fin. They were also called Salmon Trout. Or black-flecked trout. Scientifically, they were originally dubbed Salmo mykiss macdonaldi. Nowadays they're considered a subspecies and referred to as Oncorhynchus clarkii macdonaldi. You can find obscure references that might be associated to these trout dating back to the 1880s before they were officially identified by science, but it's not even clear if they naturally existed on one side of the Continental Divide, or both. Or if they were perhaps even transplanted to the Twin Lakes by early fish propagators.

Just as mysteriously as the Yellow-fin appeared, within little more than a decade after they were named in a scientific report authored by the famed ichthyologists Dr. David Starr Jordan and Barton Warren Evermann, in 1890, following their expedition to the Twin Lakes the year prior, this new trout seemingly vanished – a victim of overfishing, as these Leadville newspaper articles attest:



The introduction of non-native species such as mackinaws, browns, rainbows and brook trout further hastened the Yellow-fin's demise. We Colorado anglers don't think of our fantastic wild 'bows and browns as invasive, but they are. Some folks get downright ornery about protecting such introduced fish, and we all love these treasured trout, but one might argue they really don't belong in Colorado waters.
For their 1890 report, Jordan and Evermann collected a handful of small Yellow-fin specimens; none larger than about 10", though they stated the species "reached a weight of 7 to 10 pounds" and further documented individual fish attaining upwards of "13 pounds' weight." The Yellow-fin had been known as Salmon Trout for good reason. I believe certain evidence exists that Yellow-fin may have attained a much greater size as stated in the newspaper clippings below from the period:



Although the Jordan/Evermann paper comprises a significant amount of the scientific information available on the Yellow-fin, later works by such luminaries as Dr. Robert J. Behnke, in his seminal book, Native Trout of Western North America, generally reference this Jordan/Evermann report and add to it an endorsed confirmation that the Yellow-fin was indeed its own subspecies by such measures as gill-raker and scale counts as well as spotting patterns.

William J. Wiltzius also provided additional key information in his 1985 study, Fish Culture and Stocking in Colorado, 1872-1978. Wiltzius's paper even included a photograph from the June 1891 edition of Sports Afield which Behnke identifies as possibly the only known picture of the enigmatic Yellow-fin shown below:



The Wiltzius paper wasn't so much a biological scientific endeavor as it was a logistical account of Colorado fish "culture" and how trout, among other fish species, were raised and stocked across the state. As part of this objective, Wiltzius proceeded to cite "circumstantial evidence that the yellowfin trout may have been successfully established in the Grand Mesa Lakes," and he devotes an intriguing segment to the Grand Mesa Lakes Feud. It blew my mind, and as my research continued this feud took the idea of combat fishing to a whole new extreme.
Grand Mesa looms over Colorado's Western Slope as the world's highest flattop mountain. In 1881, the Ute Indians were expelled from this region to make way for American pioneers. Among these intrepid settlers was a man named William Alexander. He homesteaded a tract of land atop Grand Mesa in the late 1880s, and along with his business partner, Richard Forrest, developed what became a hatchery and frontier hotel resort. Alexander had prime rights on the water, which was also used to irrigate farms and ranches, though he and Forrest had designs on a commercialized fishery.


Since the territory's opening, however, local cowboys had grown accustomed to fishing Grand Mesa's nearly 300 lakes and streams. Their methods weren't always sporting. Seine nets, fish corrals, and even dynamite were used to haul-in wagon loads of trout which were taken for private consumption or sold on the open market to booming mining towns like Leadville. Alexander used similar techniques, but had traded his irrigation rights with the controlling Ditch Company for what he believed were exclusive fishing privileges.

Conflicts between claim-jumping adventurers and early property owners over who had rights on these marvelous Grand Mesa fishing grounds soon followed, and in June 1892, William Alexander mysteriously disappeared. The Panic of 1893, which was a global economic Depression, exacerbated this strife as settlers relied on poaching trout to feed their families. Unable to control the situation, within a few years Richard Forrest sold the property to a wealthy English capitalist named William Radcliffe.

Radcliffe soon entered contracts with the newly established Federal Hatchery near Leadville's Twin Lakes, and although I've uncovered evidence that the Yellow-fin may have been introduced to the Grand Mesa much earlier, perhaps as far back as 1882, it's this Radcliffe connection in the late 1890s which provides much of the "circumstantial evidence" that Yellow-fin were established at this site; particularly Grand Mesa's Island Lake. But according to Wiltzius and Behnke this evidence is – or was – murky.

During my own research, I discovered information that Eugene Tulian, the Superintendent of the Leadville hatchery at the time, may have indeed propagated Yellow-fin at Grand Mesa, albeit referring to them by their more common moniker, the Salmon Trout, as seen below:


This article is a bit difficult to read, but what it says is: " … Tulian, the Leadville fish hatchery superintendent, came down from the lakes on the Grand mesa, Wednesday. He secured about a million and half of salmon trout eggs for the hatchery at Leadville, besides placing about the same number in the hatchery at the hotel on the mesa."Some might argue that this isn't a smoking gun because Salmon Trout isn't, and wasn't, exactly a precise name. That same article, though, goes on to identify other more common species like rainbow and brook trout which were also cultivated at Grand Mesa. Federal records don't shine a clear light on the matter either. What's known for certain is that Yellow-fin were propagated by the Leadville hatchery near Twin Lakes between 1894-1898. Also verifiable is the fact that Radcliffe acquired the Grand Mesa property in 1896, and had a government contract with the Leadville facility. By 1899, Salmon Trout were collected at Grand Mesa by Superintendent Tulian. The dates line up, but were these Salmon Trout the Yellow-fin?

Not long after Radcliffe acquired the property, however, he, too, encountered the same conflicts with the local "fishermen" as had his predecessors. Unlike Alexander & Forrest, though, Radcliffe had the means to hire his own deputy game wardens to protect his interests. The proverbial lawyers, guns, and money were involved at every turn, but don't forget that this was the Wild West. Drovers and drifters were very real. Increasingly the feud took on aspects of a guerilla war. In 1897 dynamite was even used to blast Radcliffe's lakes.


Radcliffe's wealth, though, gave him options, and earned him many influential friends. He struck back at the cowboys by having laws crafted to his particular liking. He also kept the money flowing on all sorts of improvement projects that helped Colorado endure the dire economic times following the 1893 Silver Crash. The Englishman was as much of a darling to the state's political elites as he was vilified by the locals. By 1899 it indeed seemed he'd conquered the Grand Mesa and set it up as a veritable golden goose as the following article suggests:


If it's to be believed, that $100,000 translates to over $3M in today's currency. Fake news has always been an issue, but by all accounts Radcliffe was making serious coin, and attempting to turn the Grand Mesa into his own private, almost colonial, playground. The drovers didn't take this dandy of an Englishman's assertions lying down.

Tensions continued to flare until July 1901, when one of Radcliffe's men shot and killed a Cattle Boss named William Womack who heatedly refused to stop fishing after repeated warnings. Guess where? On the shores of Island Lake where legend has it that Radcliffe kept his prized Yellow-fin. A dime novel-style lynch mob proceeded to storm Grand Mesa, and luckily for Radcliffe he happened to be away on business. In their thirst for vengeance, however, the gathering burned his property to the ground. Radcliffe himself never set foot there again.

Researching the Grand Mesa Feud, I uncovered yet more compelling evidence that Yellow-fin, referenced by name, were in fact established at Radcliffe's hatchery which was leased to the government in the aftermath of the burnings as the following article will show:


To me, this became the proverbial smoking gun. What's more, the Yellow-fin likely continued to be propagated on Grand Mesa long after the Feud ended, and the species was otherwise believed extinct – at least until the 1930s.


Maybe these articles still don't constitute sufficient hard evidence to prove that the Yellow-fin was established at Grand Mesa, or that it was even definitively present there at all. I've got more newspaper citations, many more, and have even found references that Yellow-fin were being sought and propagated outside of America:


That request from France was supposedly fulfilled in 1908 from Grand Mesa where a relationship had been established that sent Yellow-fin to a French hatchery on other occasions dating back to 1899. Deep down the Rabbit Hole were numerous other references that cited Yellow-fin hatchery activities extending further into the 1900s, long after contemporary ichthyologists believe the fish to have gone extinct.



At some point the research fairly well convinced me, though my trail goes cold after 1938.

The Jordan/Evermann paper, however, shouldn't be treated as gospel, and was met with known inaccuracies at the time of its publication. So I'm not alone in questioning the original report.

For instance, where the Jordan/Evermann document stated that the Yellow-fin of Twin Lakes "has never been seen in the river," Mr. Gordon Land, the Colorado Fish Commissioner of the era, reported in the January 1890 edition of Forrest and Stream, "I notice one error that has been published by some of the papers, and that is in regard to the yellow fin trout of the Twin lakes, wherein it is stated that they are found only in that particular body of water. I have myself taken and spawned them in the waters of Chalk creek, Chaffee county, and, in fact, all the tributaries of the upper Arkansas, although I have not taken them in any other watershed. I mention this merely to show that they do not inhabit solely a lake or a single tributary of a stream, but are in all of the headwaters of the same stream, as it is only natural that they should be."

Going back to 1883, a mountain man named Edward Eggleston brought Salmon Trout that he'd stocked on Grand Mesa into a local newspaper office, and it's possible that he obtained them from Western Slope waters long before Radcliffe entered the story. The chronology of such evidence, though, is truly hazy.


Nevertheless, it's reasonable to view the original Yellow-fin citations in the Jordan/Everman paper with some measure of skepticism. Additionally, regarding certain Greenback specimens (Oncorhynchus clarkii stomias) which were also collected during the Twin Lakes expedition, a 2013 study on genotype for lineages of native cutthroat trout stated, "some fish from that same collection that were labeled greenback cutthroat trout also shared this unique yellowfin mitochondrial haplotype, suggesting that some of those specimens might have been misidentified." It's difficult to speculate the potential implications of this statement, but according to the United States Geological Survey's webpage as of October 10th 2018, the Yellow-fin cutthroat trout "has recently undergone major revisions and is currently being reviewed for public distribution." It will be interesting to see what this revision entails.

As a comparison, I also obtained photographs of the actual Yellow-fin specimens kept at the Smithsonian. Recall that none of these fish were much larger than about 10" and so were likely juveniles. Here's one pic of what's believed to be the real-deal, and it's not too shabby for being in a jar of ethanol for 130 years:


If the tales are to be believed, the Yellow-fin did bizarre and maddening things to people on Grand Mesa, and even got men killed. Generic terms like "black-spotted", or "black-flecked"  trout may have been used as a catch-all term of the era to include Greenback and possibly Yellow-fin.

I believe I've found compelling evidence that the mighty Yellow-fin may have grown to much greater proportions than documented in the common literature found on the subject, and that it was indeed successfully introduced to Grand Mesa – and likely points beyond."
---
About the Author:
Mark Pizzimenti is from Florida where he fished the sunshine state until moving to Colorado in 1989. He loves the mountains as much as the oceans, and has traveled far and wide in pursuit of the finny tribe.  He's authored many novels including Trout Porn and Cutthroat: The Mighty Yellow-fin Trout - Colorado's Grand Mesa Fish War. Both of these titles can be found on Amazon.  He guarantees tremendous reads …