Weird Flies That Work: Slovakian Super Heavy Nymph
Fly tying: Slovak Super Heavy nymphs are not messing around when it comes to getting deep.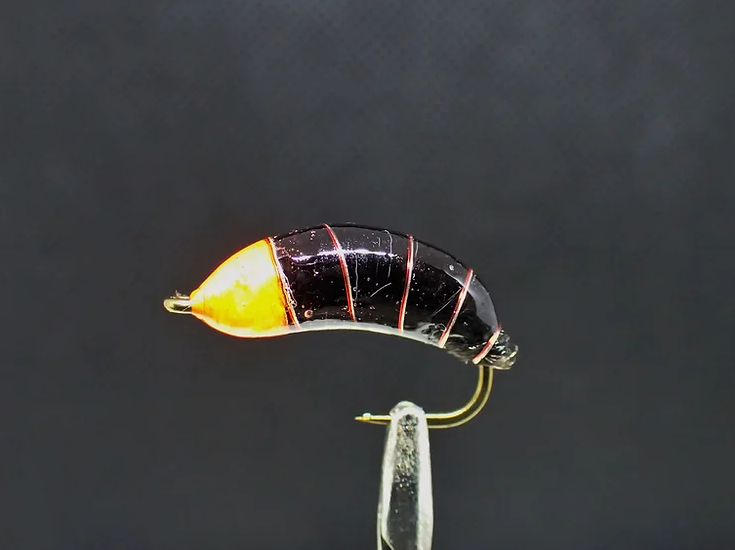 May 2021
Sometimes referred to as Slovak Super Heavy nymphs, these flies are not messing around when it comes to getting deep. With origins in Czech style nymphing, this nymph was the anchor fly meant to pull down any team of flies in heavy currents, or in deep channels. When I say pull down, I mean no doubt about it, it will reach depth. Based on the same low friction principle as the perdigon nymph, the smooth epoxy body helps reduce drag as the fly plummets through the water column. In competitions, this style of fly can also prove useful when trying to pick up scraps after other anglers have already fished the same beat, hoping to pick off one or two more fish laying deeper than previous anglers were willing to probe. (Also check out the peeping caddis bomb).

Our testing can confirm it really dunks your rig, which is great in heads of pools. But be ready to pull the fly to safety before it gets snagged and lost forever. I was not prepared for how fast they sink. We haven't caught many fish on this fly yet, but have used the super heavy nymphs to get other flies deep with productive results. Usually the fish down that deep don't see many flies coming their way, so don't sweat this fly's looks. The applications may be limited, but in certain plunge pools there aren't many better options.

Recipe: (Colors variable)
Thread: Brown 140 Denier
Hook: 8 Curved Scud Hook
Lead Wire: Heavily wrapped into grubby shape
Ribbing: Copper Wire, Secondary Color Wire
Body: Brown Floss or Thread
Hotspot: Orange Floss or Thread
Epoxy: Thoroughly and smoothly coat entire fly


Sources:
Super Heavy Nymphs from Slovakia. https://www.czechnymph.com/en/fly-fishing-articles/flies-for-fly-fishing/108-super-heavy-nymphs-from-slovakia