Story From The Road: Mudwrestling
Our fly fishing story of landing an unlikely fish, and navigating the 9-5 grind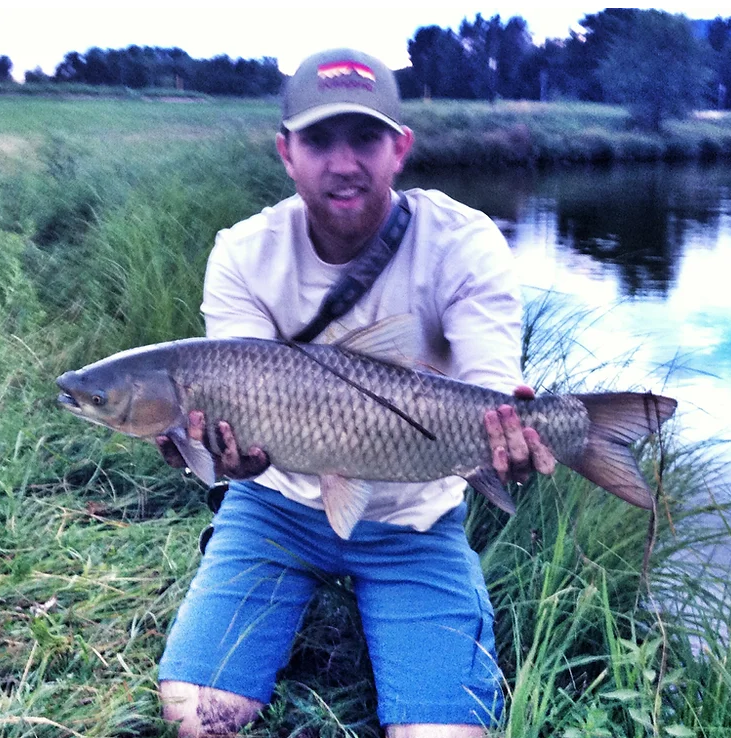 March 2022
I think you can tell from this picture, the whole scene was a mess. Me, my rod, the camera work, well there's a story there...

I got my first taste of the 9-5 working as a fish biologist by commuting halfway around the world each day to prove my salt. I was still pretty green and was truly happy to get the experience wherever I could take it. Still, it drove me crazy. It drove me crazy to lose so much of my time to the rat race (still does), and I needed an outlet... a fishing outlet. All this talk about fish and yet no fishing? I might as well have moved in at the Stanley Hotel in Estes Park, and hired Kubrick to film the ensuing mental breakdown.

Since I was so burnt out on driving, I decided to explore the urban jungle around me. For several summers I convinced my girlfriend to follow me around, hunting through the urban maze for fish. We even found a feral goldfish in a forgotten marsh and named him El Diablo… but we never could get El Diablo to eat a fly. Eventually we settled on a go-to spot, with mounds of sunfish, bass, catfish, plus common and grass carp.


We spent lots of time out there, so much so that we got used to eating dinner later in the evening after we finally packed up our rods. We made bets about how many bluegills we could catch after work, hooked decent bass, heard rumors of mega-bass, stuck catfish; but the carp wouldn't give themselves up. This was around the time when the carp-craze was getting attention too. It seemed like the perfect chance to flesh out the process, and fill in the last bingo squares for this pond. But it just wasn't happening. We'd visit new ponds and wander into carp with some success. We even came up with a fly that worked for carp elsewhere, Carl. Work would end and we'd snoop around with Carls in hand in hopes for a new spark. But progress was slow at our new home pond. So slow that I gave up with the carp. I was content with my poppers, content with chasing bass. I forgot about the carp, especially the grass carp.

Then one strange day, I wandered down to our go-to pond with a new switch rod in my hand. My goal was just to make a D loop and figure out a basic single spey cast, it was the first time I ever held a switch rod. I was back into trout mode, missing the big rivers, the running water. I'd barely figured out a decent cast, when I felt a huge strike on my line, way out in the middle of the pond. It felt like a salmon surging at the waters surface, and by the time I realized what had happened, my fly was out of play. I didn't even know what fly I had on, it didn't matter. Then again, suddenly it did. It was a 4" long black slumpbuster. After that, there were plenty of ugly spey casts launched back out there, but the fish had lurked away, and I knew it. I also knew that I needed a tool from the arsenal that I would be more capable of wielding for round 2, if I'd ever get lucky enough for round two.

Lucky for me, round 2 did come. Stupidly, I over commit to my casting comforts and under-estimated my opponent. But I didn't realize that until well after. The play was simple, get that slumpbuster out in front of the pod, and recreate the last encounter. After all those failed attempts, giving up, falling backwards into another chance, I somehow managed to get the hook-up. From what I remember, it wasn't a subtle take either. At that point, I didn't know that I'd hooked into a grass carp. That wouldn't become clear until 20 futile minutes later. That time was spent feathering this fish closer and closer to my 5wt, desperately trying to not snap the rod in half. I'd pull the fish close, only to be met by long surges out into the middle, a repeating process mimicking waves crashing on a beach. Eventually it became clear I needed a hands on approach to finish the job. As I heaved the fish in close, I plunged my first sneaker into the muddy substrate. Again, the fish pulled back, this time disconnecting the tip section of my rod from the rest, as the perfection loop nicked against my guides. By now the fish was bored, because I was gifted another chance to land the fish, with my 3/4 stick. When I finally hoisted the fish for the picture, I was no longer a fly angler, but a mud wrestler. The wriggly fish couldn't even pose for one second to allow me that chance for a photoshoot. You can even see a piece of my rod under my arm in the disheveled photo. I think each section of my rod was moving independent from one another by the end, accompanied by my embarrassing inability to close out the fight. The locals walking their dogs around the pond just stared...